Valérie Taupin - Founder and CEO of Teoxane Laboratories

Visionary entrepreneur Valérie Taupin created Teoxane Laboratories in 2003 to meet the needs of an emerging market through innovation and a keen sense of independence.
Today, as TEOXANE is approaching its 20th anniversary, the company employs more than 500 people and is present in some 90 countries. TEOXANE now holds a prominent position in the global market for hyaluronic acid dermal fillers.
The company's three core values, innovation, a culture of excellence and independence - continue to set it apart and drive its vision.
After obtaining a scientific baccalauréat at secondary school and pursuing advanced business studies in France in the late 1980s, Valérie Taupin began her career in Germany in the field of equipment for burn victims and post-operative liposuction patients.
In the early 1990s, she met a renowned head of plastic surgery who had just invented a wrinkle-filling product and asked her to market it.
Although she was just 26 years old, her independent mindset and drive to increase her performance led her to create her own distribution company in a market that was still in its infancy.
Her hard work and meticulous attention to detail quickly paid off.
In 2003, more confident than ever that this independence would give her full control over the product design and manufacturing while gaining in both agility and innovative capacity, Ms. Taupin decided to create Teoxane.
A visionary in a fledgling industry, she focused on developing new formulas, from product inception to manufacturing, while working to obtain the approvals and licences for the registrations that would enable them to be marketed.
Everything came together quickly, and thanks to her trusted network, she signed numerous distribution contracts worldwide.
Ms. Taupin worked diligently to launch her first two formulations, which were an immediate success. In 2006, the market for volumizers emerged.
While competitors were offering thick products with cannula injection methods that left marks, Teoxane broke new ground with the development of TEOSYAL® PURESENSE ULTRA DEEP1, the first volumizing gel* that can be injected with a fine needle without leaving marks on the face. TEOSYAL KISS®2 was launched at the same time to increase lip volume.
These innovative, high-performance products, better suited to needs and capable of being applied non-invasively, boosted Teoxane's sales and stoked its reputation.
Today, TEOSYAL® PURESENSE ULTRA DEEP1 remains a best-selling volumizer*.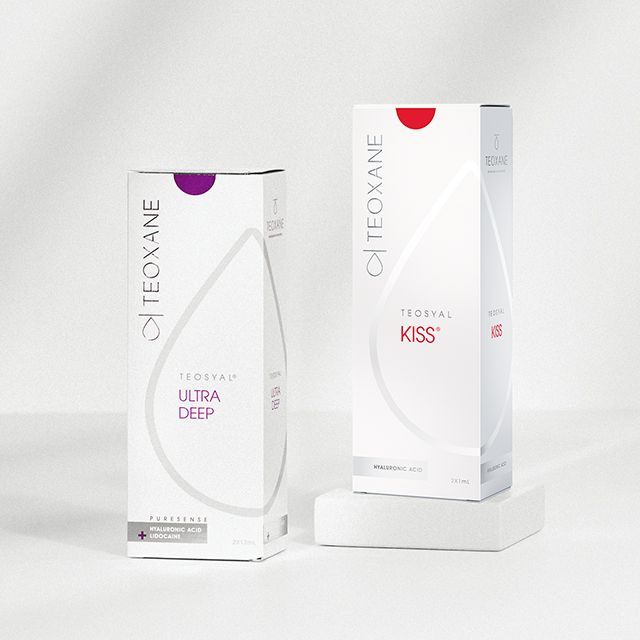 While working tirelessly on crosslinking hyaluronic acid in order to obtain gels whose rheological properties are increasingly more suited to the various dynamic areas and expressions of the face, Ms. Taupin was also the first to grasp the specific needs for filling more delicate areas, such as dark circles.
Today, with millions of injections already performed, TEOSYAL® PURESENSE Redensity 23 is still the n°1 selling product and has become a major international reference. The original formula has not changed. This product is the first hyaluronic acid filler specifically designed for the eye contour area treatment.
However, Ms. Taupin went her own way by breaking away from conventional medical codes to become the first to promote a brand image that incorporates luxury, beauty and femininity into the marketing of its products.
Moreover, with the surge in the number of doctors specialising in injection, Ms. Taupin also quickly realised the importance of training. She created Teoxane Academy, which now trains and provides support to more than 20,000 doctors every year in injection techniques.
Although Teoxane exports more than 20,000 syringes worldwide every day, manufactures 25 different formulations, holds 16 major patents, and markets a range of hyaluronic-acid-based dermocosmetics